Toutatis - Earth-Based Radar
Goldstone radar images of asteroid 4179 Toutatis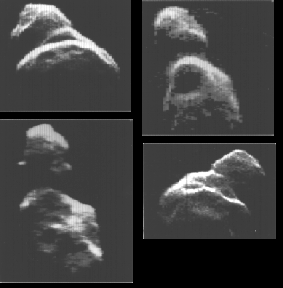 Four radar images of asteroid 4179 Toutatis created using the Goldstone DSN antennas. These images were made on 8,9,10, and 13 December 1992 when Toutatis made a closest approach (approx. 4 million km) to Earth. The radar illumination is from the top in each image, and each shows the asteroid in a different orientation. Toutatis is an irregularly shaped body roughly 4.6 x 2.4 x 1.9 km, which appears to consist of 2 bodies in contact. The large crater in the 9 December image (2nd from top) is about 700 m in diameter. (Goldstone Radar, p-41525)
Larger image:
High resolution tiff file (1.0 Mb)
---
Location & Time Information
Date/Time (UT): 1992-12-08 to 1992-12-13
Distance/Range (km): 4000000.
Central Latitude/Longitude (deg): N/A
Orbit(s): Earth-based

Imaging Information
Area or Feature Type: global view
Instrument: Goldstone DSC antenna-radar
Instrument Resolution (pixels): N/A
Instrument Field of View (deg): N/A
Filter: N/A
Illumination Incidence Angle (deg): 0.
Phase Angle (deg): 0.
Instrument Look Direction: N/A
Surface Emission Angle (deg): 0.

Ordering Information
CD-ROM Volume: N/A
NASA Image ID number: P-41525
Other Image ID number: N/A
NSSDC Data Set ID (Photo): NSD GD-11C
NSSDC Data Set ID (CD): N/A
Other ID: N/A

Updated 14 March 2003, DRW.