Ida - Galileo
False color image of asteroid 243 Ida and Dactyl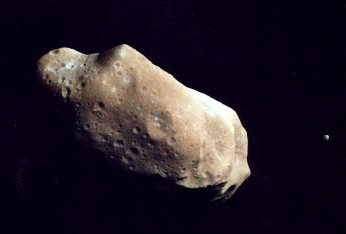 Galileo false-color image of asteroid 243 Ida and its small satellite Dactyl (at right). The images used to make this picture were taken about 14 minutes before closest approach form a distance of roughly 10,500 km. Color differences may indicate compositional variation on the surface. The bright blue areas may indicate greater abundance of iron bearing minerals. Ida is 58 km along its long axis, and north is at 1:00. (Galileo, P-44131)
Larger image:
High resolution tiff file (3.1 Mb)
---
Location & Time Information
Date/Time (UT): 1938-08-28 T 16:38
Distance/Range (km): 10421. to 10629.
Central Latitude/Longitude (deg): -20.,327.
Orbit(s): flyby

Imaging Information
Area or Feature Type: global view, crater
Instrument: Solid State Imaging CCD Camera
Instrument Resolution (pixels): 800 x 800, 8 bit
Instrument Field of View (deg): .46 x .46
Filter: Violet (3), IR-7560 (4), IR-9680 (5)
Illumination Incidence Angle (deg): 13.
Phase Angle (deg): 27.
Instrument Look Direction: N/A
Surface Emission Angle (deg): 34.

Ordering Information
CD-ROM Volume: GO_0016 (raw image)
NASA Image ID number: P-44131
Other Image ID number: 02025613.13, 02025613.26, 02025613.39 (raw images)
NSSDC Data Set ID (Photo): 89-084B-10B
NSSDC Data Set ID (CD): 89-084B-10C
Other ID: N/A

Updated 18 March 2003, DRW.