Neptune - Voyager 2
Image of Neptune from 6.1 million km. showing the Scooter and the Great Dark spot.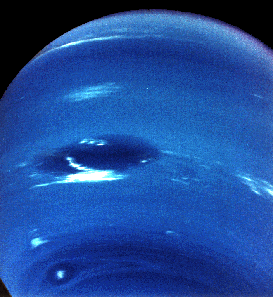 Voyager 2 image of Neptune showing the Great Dark Spot and associated bright clouds and a bright Scooter to the lower left. Below the Scooter can be seen a smaller dark spot with a bright core. All the features are moving to the east at different speeds with the strong global winds. This image was produced with the orange, green, and clear filters. The Great Dark Spot is about 6,000 km from top to bottom. North is at 12:30 (Voyager 2, P-34632)
Larger image:
High resolution tiff file (2.1 Mb)
---
Location & Time Information
Date/Time (UT): N/A
Distance/Range (km): 6,100,000 km
Central Latitude/Longitude (deg): N/A
Orbit(s): Flyby

Imaging Information
Area or Feature Type: global view, clouds
Instrument: Narrow Angle Vidicon Camera
Instrument Resolution (pixels): 800 x 800, 8 bit
Instrument Field of View (deg): .424 x .424
Filter: clear, orange, green
Illumination Incidence Angle (deg): N/A
Phase Angle (deg): N/A
Instrument Look Direction: N/A
Surface Emission Angle (deg): N/A

Ordering Information
CD-ROM Volume: N/A
NASA Image ID number: P-34632
Other Image ID number: N/A
NSSDC Data Set ID (Photo): 77-076A-01N
NSSDC Data Set ID (CD): N/A
Other ID: N/A

Updated 15 May 2003, DRW.