Lunar Photographic Studies
NSSDCA ID: 1966-100A-01
Mission Name:
 Lunar Orbiter 2
Principal Investigator:
Mr. Leon J. Kosofsky
Description
This experiment consisted of a dual-lens camera system designed to satisfy the primary mission objective of providing photographic information for the evaluation of Apollo and Surveyor landing sites. An 80-mm lens system was used to obtain Medium-Resolution (MR) photos, and a 610-mm lens system was used for High-Resolution (HR) photos. The two separate lens, shutter, and platen systems utilized the same film supply and recorded imagery simultaneously in adjacent areas on 70-mm film. Automatic sequences of 1, 4, 8, or 16 photos could be obtained. At an altitude of 46 km, which was approximately the perilune height, the HR system photographed a 4.15- by 16.6-km area of the lunar surface which was centered on a 31.6- by 37.4-km area photographed by the MR system. Resolutions were 1 and 8 m, respectively. At apolune, on the moon's farside at about 1850-km altitude, the areas photographed were correspondingly larger. The film was bimat processed on board and optically scanned, and the resulting video signal was telemetered to ground stations. Film density readout was accomplished by a high-intensity light beam focused to a 6.5-micron-diameter spot on the spacecraft film. The spot scanner swept 2.67 mm in the long dimension of the spacecraft film. This process was repeated 286 times for each millimeter of film scanned. The raster was composed of 2.67- by 65-mm scan lines along the film. The video signal received at the ground station was recorded on magnetic tape and also fed to Ground Recontruction Equipment (GRE), which reproduced the portion of the image contained in one raster on a 35-mm film positive framelet. Over 26 framelets were required for a complete MR photograph and 86 for a complete HR image. Of the 211 simultaneous exposures, 209 MR and 202 HR were completely read out. The loss of two frames was due to the failure of the traveling-wave-tube amplifier during final readout operations. All recovered photography is considered usable. Experiment performance was nominal until the final readout on December 7, 1966. A detailed description of the experiment, a bibliography, and indexes of all the available Lunar Orbiter 1 through 5 photos are contained in the report 'Lunar Orbiter Photographic Data,' NSSDC 69-05, June 1969.
Alternate Names
LunarOrbiter2/LunarPhotographicStudies
Discipline
Planetary Science: Geology and Geophysics
Additional Information
Questions and comments about this experiment can be directed to: Coordinated Request and User Support Office
Personnel
| Name | Role | Original Affiliation | E-mail |
| --- | --- | --- | --- |
| Mr. Leon J. Kosofsky | Principal Investigator | NASA Headquarters | |
Selected References
Lunar Orbiter photographic data (data users' note), NASA-GSFC, NSSDC 69-05, Greenbelt, MD, June 1969.
Related Information at NSSDCA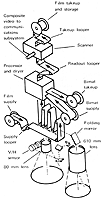 Lunar Orbiter Camera Diagram
Detailed Information on Lunar Orbiters and Images
Lunar Orbiter overview
Other Related Data/Information
USGS Digitized Lunar Orbiter Images
Digital Lunar Orbiter Photographic Atlas of the Moon (Lunar and Planetary Institute)