Rock Abrasion Tool (RAT)
NSSDCA ID: 2003-027A-06
Mission Name:
 Spirit
Principal Investigator:
Dr. Steven W. Squyres
Description
The Rock Abrasion Tool (RAT) is a device containing a grinding wheel designed to remove dust and weathered material from the surface of a rock to expose a fresh surface. The fresh surface, which is more likely to represent the original rock before alteration, can then be studied by the other rover instruments. It is mounted on the rover arm, or instrument deployment device and is placed by the arm against the target rock.
The RAT is 7 cm in diameter and 10 cm long. It uses two diamond matrix wheels. Each wheel has two teeth which cut out a circular area as the head rotates at high speed. The grinding wheels can also slowly revolve around each other, sweeping the two circular areas over a 4.5 cm diameter cutting region. The wheels can penetrate by fractions of a millimeter as commanded, creating a hole as deep as 0.5 cm. Penetration into the rock is slow and designed to minimize alteration of the petrologic fabric, chemistry, or mineralogy. Currents and temperatures will be monitored during the grinding opeation to infer information on the rock properties. Grinding operations take about 2 hours for a dense basalt.
Alternate Names
RAT
Spirit/RAT
urn:nasa:pds:context:instrument:rat.mer2
Facts in Brief
Mass: 0.75 kg
Power (avg): 30 W

Funding Agency
NASA-Office of Space Science Applications (United States)
Discipline
Planetary Science: Geology and Geophysics
Additional Information
Questions and comments about this experiment can be directed to: Dr. David R. Williams
Personnel
| Name | Role | Original Affiliation | E-mail |
| --- | --- | --- | --- |
| Prof. Raymond E. Arvidson | Deputy Principal Investigator | Washington University | arvidson@wunder.wustl.edu |
| Dr. Steven W. Squyres | Principal Investigator | Cornell University | sws6@cornell.edu |
Selected References
Gorevan, S. P., et al., Rock Abrasion Tool: Mars Exploration Rover mission, J. Geophys. Res., 108, No. E12, 8068, doi:10.1029/2003JE002061, 2003.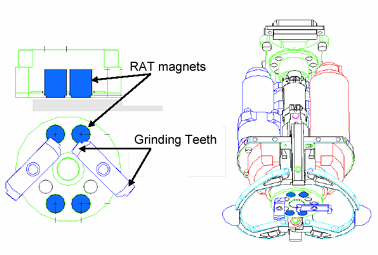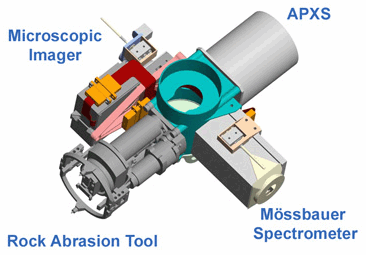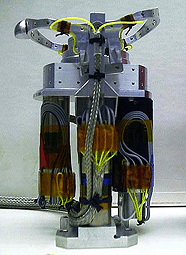 Diagram of the Rock Abrasion Tool, drawing of the suite of instruments on the end of the rover arm, and image of the RAT
RAT Technical Briefing (PDF file)
NASA Selects 28 Participating Scientists for Mars Rover Mission - NASA Press Release 29 May 2002