Light Detection and Ranging (LIDAR)
NSSDC ID: 1999-001A-03
Mission Name: Mars Polar Lander
Principal Investigator: Dr. Viacheslav Linkin

Description
The Light Detection And Ranging (LIDAR) instrument is a laser sounder designed to characterize ice, aerosol, and dust hazes in the atmosphere to a level of 2 to 3 kilometers. The scientific objective is to understand the relationship between the amount of dust and aerosols in the lower-most part of the Martian atmosphere and the planet's regional weather conditions. The LIDAR is provided by the Space Research Institute (IKI) of the Russian Academy of Science, under the sponsorship of the Russian Space Agency (RSA) and is the first Russian instrument to fly aboard a U.S. planetary spacecraft.
The LIDAR is mounted on top of the lander deck giving an unobstructed view of the sky. It has two modes of operation, an active mode and an acoustic, or passive, mode. In the active mode a 400 nJ Galium-Aluminum-Arsenic laser diode emits 100 nanosecond pulses at wavelengths of 0.88 micrometer with a frequency of 2.5 kHz up into the atmosphere. The light is scattered and the returned light detected. The amount of light returned and the timing of the returns is used to determine the abundance and location of the ice, aerosol, and dust hazes. In the acoustic mode, the Sun is used as the light source and the detector measures the brightness of the sky. The Mars Microphone will also be mounted with the LIDAR assembly.
Alternate Names
Facts in Brief
Mass: 1.0 kg

Funding Agency
Russian Space Agency (Russia)
Discipline
Additional Information
Questions or comments about this experiment can be directed to: Dr. David R. Williams.
Personnel
| Name | Role | Original Affiliation | E-mail |
| --- | --- | --- | --- |
| Dr. Viacheslav Linkin | Principal Investigator | Russian Academy of Sciences | vlinkin@vm1.iki.rssi.ru |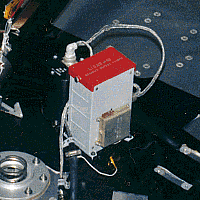 Light Detection and Ranging (LIDAR)