P 14 (Explorer 10)
NSSDCA/COSPAR ID: 1961-010A
Description
P 14, also known as Explorer 10, was a cylindrical, battery-powered spacecraft instrumented with two fluxgate magnetometers and one rubidium vapor magnetometer extending from the main spacecraft body, and a Faraday cup plasma probe. The mission objective was to investigate the magnetic fields and plasma as the spacecraft passed through the earth's magnetosphere and into cislunar space. The satellite was launched into a highly elliptical orbit. It was spin stabilized with a spin period of 0.548 s. The direction of its spin vector was 71 deg right ascension and minus 15 deg declination. Because of the limited lifetime of the spacecraft batteries, the only useful data were transmitted in real time for 52 h on the ascending portion of the first orbit. The distance from the earth when the last bit of useful information was transmitted was 42.3 earth radii, and the local time at this point was 2200 h. All transmission ceased several hours later.
Alternate Names
00098
1961 Kappa 1
Explorer 10
P14
Facts in Brief
Launch Date: 1961-03-25
Launch Vehicle: Thor-Delta
Launch Site: Cape Canaveral, United States
Mass: 79 kg

Funding Agency
NASA-Office of Space Science Applications (United States)
Discipline
Additional Information
Questions and comments about this spacecraft can be directed to: Coordinated Request and User Support Office
Personnel
| Name | Role | Original Affiliation | E-mail |
| --- | --- | --- | --- |
| Dr. James P. Heppner | Project Manager | NASA Goddard Space Flight Center | |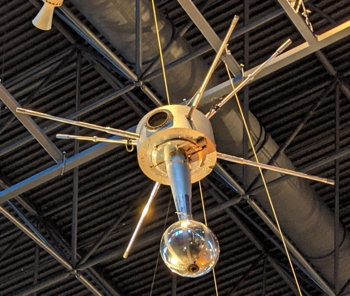 Explorer 10 model at the Smithsonian Air and Space Udvar-Hazy Center.