OSO 8
NSSDCA/COSPAR ID: 1975-057A
Description
The objectives of the OSO satellite series were to perform solar physics experiments above the atmosphere during a complete solar cycle and to map the entire celestial sphere for direction and intensity of UV light, X-ray radiation, and gamma-ray radiation. The OSO 8 platform consisted of a sail section, which pointed two experiments continually toward the sun, and a wheel section, which spun about an axis perpendicular to the pointing direction of the sail and carried five experiments. Gas jets and a magnetic torquing coil performed attitude adjustment. Pointing control permitted the pointed experiments to scan the region of the solar disk in a 40- by 40-arc-min to 60- by 60-arc-min raster pattern. In addition, the pointed section was capable of being commanded to select and scan a 1- by 1-arc-min or 5- by 5-arc-min region anywhere on the solar disk. Data were simultaneously recorded on tape and transmitted by PCM/PM telemetry. A command system provided for at least 512 ground-based commands. For more information, see S. P. Maran and R. J. Thomas, Sky & Teles., v. 49, p. 355, 1975.
Alternate Names
731D
07970
OSO-I
OSO-EYE
OSO8
Facts in Brief
Launch Date: 1975-06-21
Launch Vehicle: Delta
Launch Site: Cape Canaveral, United States
Mass: 4280 kg

Funding Agency
NASA-Office of Space Science (United States)
Disciplines
Additional Information
Questions and comments about this spacecraft can be directed to: Coordinated Request and User Support Office
Personnel
| Name | Role | Original Affiliation | E-mail |
| --- | --- | --- | --- |
| Mr. J. Patrick Corrigan, III | Project Manager | NASA Goddard Space Flight Center | |
| Dr. Roger J. Thomas | Project Scientist | NASA Goddard Space Flight Center | |
| Mr. Michael E. McDonald | Program Manager | NASA Headquarters | |
| Dr. J. David Bohlin | Program Scientist | NASA Headquarters | |
US Active Archive for OSO-8 Information/Data
The OSO 8 Archive at HEASARC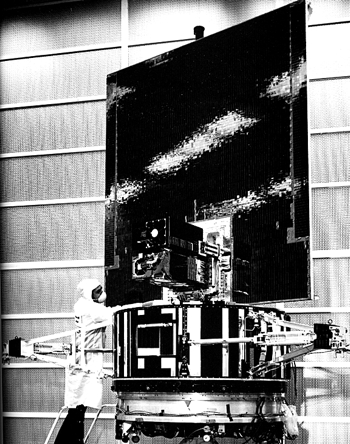 OSO-8 photograph credit Hughes Aircraft Co.