Venera 13
NSSDCA/COSPAR ID: 1981-106A
Description
Venera 13 and 14 were identical spacecraft built to take advantage of the 1981 Venus launch opportunity and launched 5 days apart. The Venera 13 mission consisted of a bus (81-106A) and an attached descent craft (81-106D). After launch and a four month cruise to Venus, the descent vehicle separated and plunged into the Venus atmosphere on 1 March 1982. As it flew by Venus the bus acted as a data relay for the brief life of the descent vehicle, and then continued on into a heliocentric orbit. The bus was equipped with instrumentation including a gamma-ray spectrometer, retarding potential traps, UV grating monochromator, electron and proton spectrometers, gamma-ray burst detectors, solar wind plasma detectors, and two-frequency transmitters which made measurements before, during, and after the Venus flyby.
Spacecraft images for illustrative purposes - not necessarily in the public domain.
Alternate Names
12927
Venera 13 Flight Platform
Venera13
Facts in Brief
Launch Date: 1981-10-30
Launch Vehicle: Proton Booster Plus Upper Stage and Escape Stages
Launch Site: Tyuratam (Baikonur Cosmodrome), U.S.S.R

Funding Agency
Discipline
Additional Information
Questions and comments about this spacecraft can be directed to: Dr. David R. Williams
Personnel
| Name | Role | Original Affiliation | E-mail |
| --- | --- | --- | --- |
| Mr. Artem Ivankov | General Contact | Lavochkin Association | artem.ivankov@laspace.ru |
Selected References
Harvey, B., The new Russian space programme from competition to collaboration, John Wiley and Sons, Chichester, England, 1996.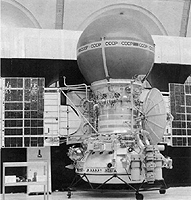 Venera 13 Orbiter
Venera 13 Descent Craft/Lander
Venera 14 Orbiter
Venus Home Page
Venera Home Page
Venera lander images of the surface of Venus
- and other Venus images