IBAMA - Brazilian Institute for Environment and Natural Renewable Resources
Brasilia, Brazil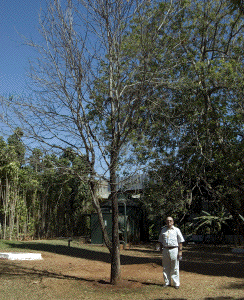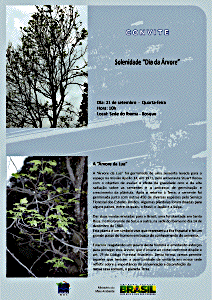 Sweetgum (Liquidambar styraciflua) planted at IBAMA (formerly IBDF at the time of the planting), the Brazilian Institute for Environment and Natural Renewable Resources in Brasilia on 14 January 1980. The planting was attended by Thomas Nelson, head of the U.S. Forest Service, Stanley Brown, Agricultural Attache to the U.S. embassy, Joaquim Falco Uriate Netto, the General Secretary of IBDF, and other Brazilian officials. Thomas Nelson spoke and wished the best for the future of Brazil and U.S. relations, particularly in the area of forest research.

A celebration and registration of the tree as a historic site is scheduled for 21 September 2011, Brazilian Arbor Day. An article on the Moon Tree planting (PDF File, in Portuguese) from the IBDF Newsletter Sinal Verde (Green Light), December 1980.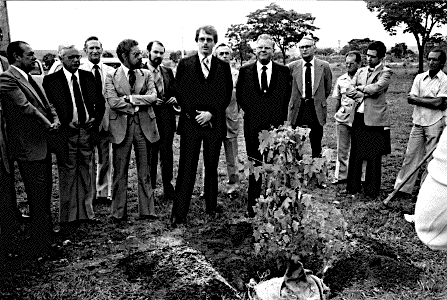 Photograph from the planting ceremony on 14 January 1980 Pictures and information courtesy of Roselane Castelo Branco and Jaime Tadeu Franca.
---
Moon Tree Home Page
---
Author/Curator:
Dr. David R. Williams, dave.williams@nasa.gov
NSSDCA, Mail Code 690.1
NASA Goddard Space Flight Center
Greenbelt, MD 20771
+1-301-286-1258


---
NASA Official: Dave Williams, david.r.williams@nasa.gov
Last Updated: 21 September 2011, DRW