Santa Rosa
Rio Grande do Sul, Brazil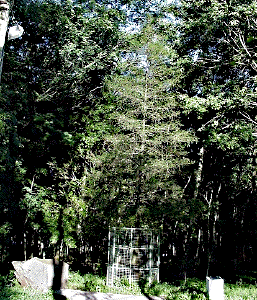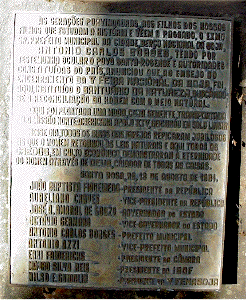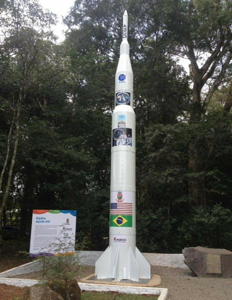 A coast redwood (Sequoia sempervirens) was planted in Parque da Fenasoja in the city of Santa Rosa, Rio Grande do Sul province in southern Brazil on 18 August 1981. A combination of cement work around the tree, occasional droughts, continuous night lighting, and taller trees blocking the sunlight led to the tree nearly dying by 2006. A local man, Vilso Cembranel, had the cement work removed, the lights taken down, the surrounding trees trimmed back, and a spigot installed. This saved the tree, it is now about 30 feet tall. See the full story in Brazil's Moon Tree Warrior.

The plaque is in Portugese, a rough English translation is: " To the coming generations, to the sons of our sons who study our history and see the past, the honorable Mr. mayor of this city, national cradle of soy, Antonio Carlos Borges, having for witnesses the people of Santa Rosa and authorities from around the country, announced that, at the closing of the V National Soy Fair, it was here instituted the Nature Sanctuary, looking to reconcile men and the natural environment. Here was planted a seedling whose seed, transported by the north- american mission Apollo XIV, germinated in lunar soil. On this day, all the churches bells rang in jubilation, for men returned to the natural laws and here all creeds, in an ecumenical ceremony, demonstrated the eternity of men through God, creator of all things. Santa Rosa, RS, 18 of August of 1981. Joao Baptista Figueiredo - President of the Republic
Aureliano Chaves - Vice-President of the Republic
Jose A. Amaral de Souza - Governor of the State
Octavio Germano - Vice-governor of the State
Antonio Carlos Borges - Mayor of the City
Antonio Azzi - Vice-mayor of the City
Erni Friderichs - President of City Legislature
Mauro Silva Reis - President of IBDF (Brazilian Institute for Forest Development)
Nilso F. Guidolin - President of the V FENASOJA (National Soy Fair)
" On 3 May 2018 a replica of the Saturn V rocket that brought Apollo 14, Stuart Roosa, and the seeds to the Moon was installed next to the Moon Tree. The project was created by the artist Betto Almeida and built by AGCO. For more, see the Fenasoja press release.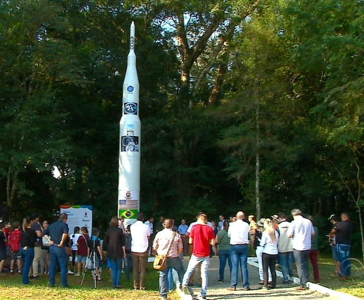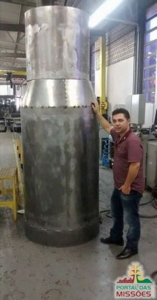 Upper right and lower pictures courtesy Betto Almeida and Portal das Missoes
---
Brazil's Moon Tree Warrior - Discover Magazine, 2 October 2017

Replica of the Apollo 14 spacecraft inaugurated - Fenasoja Press Release, 3 May 2018

Replica of spaceship opens next to tree sprouted on the moon, in Santa Rosa - globo.com, 4 May 2018

NASA confirms that giant tree planted in RS is from seed sent to the Moon - Galileu, 15 July 2021

Lunar Tree in Santa Rosa - Portal das Missoes, 8 December 2020

Santa Rosa Tree Page (courtesy of the Wayback Machine)

History of the Moon Tree Coastal Redwoods
Moon Tree Home Page
---
Author/Curator:
Dr. David R. Williams, dave.williams@nasa.gov
NSSDCA, Mail Code 690.1
NASA Goddard Space Flight Center
Greenbelt, MD 20771
+1-301-286-1258


---
NASA Official: Dave Williams, david.r.williams@nasa.gov
Last Updated: 22 June 2023, DRW