Kennedy Space Center Moon Tree
Cape Canaveral, Florida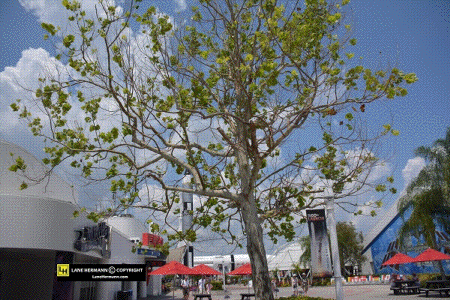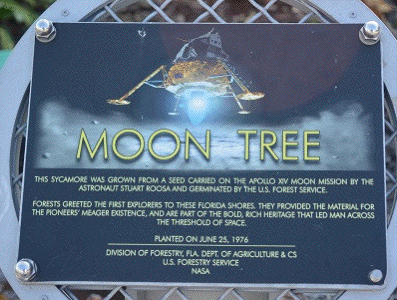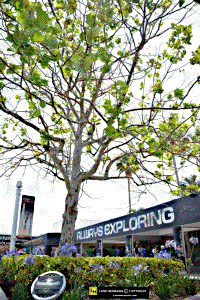 A sycamore (Platanus occidentalis) Moon Tree was planted at Kennedy Space Center in Cape Canaveral, Florida on 25 June 1976, by Apollo 14 astronaut Ed Mitchell and Florida Agriculture Secretary Doyle Conner. The tree was planted in the courtyard of the Kennedy Space Center Visitor Complex. Unfortunately, Hurricane Irma knocked the tree over on 11 September 2017. It has since been replaced by a "Moon Tree Garden", a collection of 12 descendents of the original tree, planted on 12 July 2019. There are also statues in the garden carved from wood from the original tree, and paintings made using sawdust from the tree. The garden is located between the Saturn V building and the Banana River launch-viewing stands.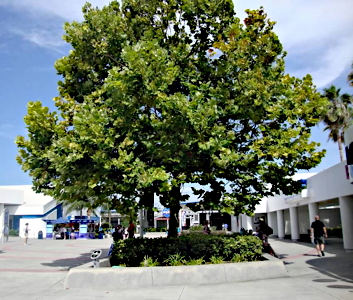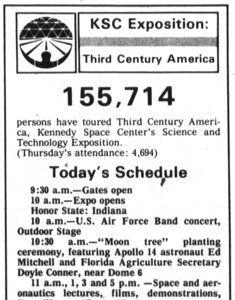 Image of Kennedy Space Center Moon Tree in 2012 and "Moon tree" planting notice for June 25, 1976
Top images courtesy of Lane Hermann.
Lower tree image courtesy of Darlene Squibb.
Tree planting notice credit Florida Today
---
The "Moon Tree Garden" - Florida Hikes!

Artist adds touch of moon (tree) dust for Apollo 14 50th anniversary - collectSPACE

Article on Kennedy Space Center Moon Tree
Moon Tree destroyed by hurricane Irma - Spaceflight Insider, 16 September, 2017 (Courtesy Internet Archive)

'Moon Tree' that traveled on Apollo mission and planted at KSC toppled by Hurricane Irma - Florida Today, 21 September 2017

Moon Tree Home Page
---
Author/Curator:
Dr. David R. Williams, dave.williams@nasa.gov
NSSDCA, Mail Code 690.1
NASA Goddard Space Flight Center
Greenbelt, MD 20771
+1-301-286-1258


---
NASA Official: Dave Williams, david.r.williams@nasa.gov
Last Updated: 13 May 2021, DRW