Mission Plaza Moon Tree
San Luis Obispo, California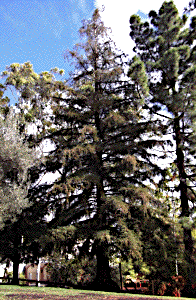 The coast redwood (Sequoia sempervirens) Moon Tree in San Luis Obispo was planted as a 55-inch tall
seedling on 30 July 1976. It is located in Mission Plaza near San Luis Creek just upstream from the
Broad Street Bridge. The seedling was sent from the U.S.F.S. Institute of Forest Genetics station in
Placerville, California on 2 April 1976. The original seeds were collected in Santa Cruz County near
Soquel, California.
Tree located at 35 deg 16.792 min N, 120 deg 39.876 min W
Upper photos and lower left photo Nancy and Dave Williams, 2016
Lower right tree photo circa 2002 courtesy of Doug Allen
Additional information courtesy of Ed Hall
---
A tree in SLO County orbited the moon — yes, really - The Tribune

Moon Tree listing - SLOCAL

History of the Moon Tree Coastal Redwoods
Moon Tree Home Page
---
Author/Curator:
Dr. David R. Williams, dave.williams@nasa.gov
NSSDCA, Mail Code 690.1
NASA Goddard Space Flight Center
Greenbelt, MD 20771
+1-301-286-1258


---
NASA Official: Dr. David R. Williams, david.r.williams@nasa.gov
Last Updated: 1 April 2021, DRW