Alabama State Capitol Moon Tree
Montgomery, Alabama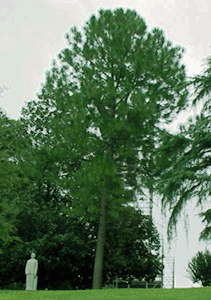 Loblolly pine (Pinus taeda) on the grounds of the Alabama State Capitol Building, Montgomery, Alabama.
It was planted in a ceremony on 19 April 1976, it is marked by a marble plaque and located next to the statue
of Albert Patterson. The tree is located at 32 deg 22.651 min N, 86 deg 18.050 min W
News Release, Montgomery, Alabama, April 19, 1976
A loblolly pine seedling from the very same seeds that journeyed to the
moon and back with the Apollo 14 flight in 1971 was presented to Governor
George C. Wallace by the Alabama Forestry Commission and the U.S. Forest
Service in a special ceremony at the Governor's Office today.
The moon tree will be planted on the lawn of the State Capitol as a
permanent reminder of man's flight into space and its relationship to the
forests of America.
C.W. Moody, State Forester for Alabama, expressed his pleasure at having
the moon tree presented here as a part of the Bicentennial observance.
He said it symbolizes the major role forests have played in developing
our American Heritage and the vital role forests have in our future.
On January 31, 1971, Apollo 14 lifted gracefully from its launch pad
towards the moon. On board were those forest trees. They were nestled
in a tiny container close to Command Module Pilot Stuart Roosa.
The Monday ceremony at the Capitol coincided with the signing of a
proclamation by the Governor, designating the week of May 16-22, as
Forest Conservation and Recreation Week in Alabama, leading to the 2nd
annual Alabama Forest Festival, scheduled for May 21-22 in Montgomery.
News release courtesy of Neil Letson
Image courtesy of Skeeter Etheridge
---
Have you ever seen Montgomery's 'Moon Tree'? - WSFA12 News

Alabama Moon Tree - alabama.gov (courtesy Wayback Machine)

Moon Tree Home Page
---
Author/Curator:
Dr. David R. Williams, dave.williams@nasa.gov
NSSDCA, Mail Code 690.1
NASA Goddard Space Flight Center
Greenbelt, MD 20771
+1-301-286-1258


---
NASA Official: Dave Williams, david.r.williams@nasa.gov
Last Updated: 27 July 2021, DRW