Moon Tree Sycamores, Loblolly Pines, and Sweetgums
Pseudotsuga menziesii, Pinus taeda, Liquidambar styraciflua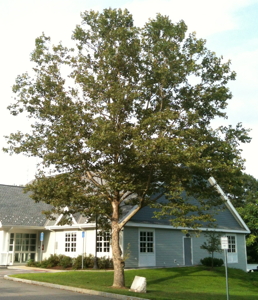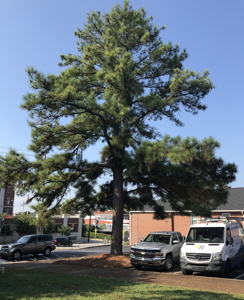 Moon Trees: Sycamore (Holliston, Massachusetts) ; Loblolly Pine (Athens, Georgia) ; Sweetgums (Tell City, Indiana) After their flight on Apollo 14, all seeds for the sycamores (Platanus occidentalis), loblolly pines (Pinus taeda), and sweetgums (Liquidambar styraciflua) were eventually received and grown by the U.S. Forest Service Institute of Forest Genetics (IFG) southern station in Gulfport, Mississippi. (The coastal redwoods and Douglas firs were grown at the Institute of Forest Genetics (IFG) western station in Placerville, California.) Seeds for the various trees were collected from specific locations. The sycamores were collected from Claiborne County, Mississippi. The seeds for the loblolly pines were collected in Livingston Parish, Lousiana, and New Kent County, Virginia. The sweetgum seeds were collected in Bladen County, North Carolina. The seeds were originally sent to Dr. Charles Walkinshaw, who was with the U.S. Department of Agriculture on special assignment with NASA managing the Lunar Receiving Lab at Johnson Space Center Houston. All the seeds were packaged, carried by Stuart Roosa on the Apollo 14 flight, and returned to Earth.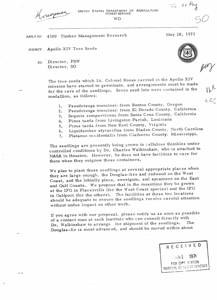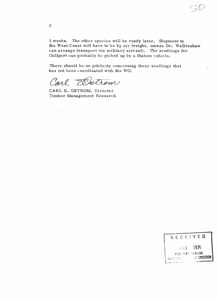 Carl Ostrum letter, Apollo XIV Tree Seeds, 20 May 1971 After their return to Earth, many of the seeds were grown in cellulose thimbles in Houston under controlled conditions, supervised by Dr. Walkinshaw (20 May 1971 letter ( page 1 and page 2 ) from Carl Ostrum, Director of Timber Management Research). This letter also lists the sources of all the seeds used for the Moon Trees. Note that in the May 20 letter, Ostrum requested that the seeds be moved promptly to the IFG stations in Gulfport, Mississippi and Placerville, California because they did not have the necessary facilities to care for the seeds in Houston. For some reason this was not done at that time. Apparently the majority of these seedlings failed to survive (10 July 1972 letter from Ron Dinus, project leader). The remaining sycamore, loblolly pine, and sweetgum seeds were then sent to the IFG southern station in Gulfport, Mississippi; and the coast redwood and Douglas fir seeds were sent to the IFG western station in Placerville, California, in July of 1972. The trees were germinated and grown at the stations and the resulting seedlings were distributed across the country for plantings, primarily in 1976 to celebrate the nation's bicentennial.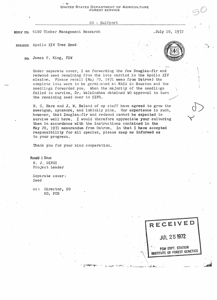 Ron Dinus letter, 10 July 1972 References Dinus, R., letter, Apollo XIV Tree Seed, 10 July 1972 Ostrum, C., letter, Apollo XIV Tree Seeds, pages 1 and 2, 20 May 1971 Letters and information courtesy Erica Botkin and the Institute of Forest Genetics, Placerville, California.
---
Stuart Roosa and the Moon Tree Seeds
Institute of Forest Genetics, Gulfport, Mississippi
Institute of Forest Genetics, Placerville, California
Moon Tree Home Page
---
Author/Curator:
Dr. David R. Williams, dave.williams@nasa.gov
NSSDCA, Mail Code 690.1
NASA Goddard Space Flight Center
Greenbelt, MD 20771
+1-301-286-1258


---
NASA Official: Dave Williams, david.r.williams@nasa.gov
Last Updated: 6 May 2021, DRW