---
--------------- Planetary News ---------------
---
Third Man to Walk on Moon Dies in Motorcycle Accident
July 9, 1999
Charles P. "Pete" Conrad, the third human to walk on the moon, died late Thursday night in a hospital in Ojai, CA, of injuries sustained in a motorcycle accident. He was 69.
Conrad was on a trip to Monterey, CA with his wife, Nancy, and friends when his motorcycle crashed on a turn, according to the California Highway Patrol. Conrad, who lived in Huntington Beach, CA, near Los Angeles, died later at the hospital of internal injuries.
Conrad made history on Nov. 19, 1969, when, as commander of the Apollo 12 mission, he and Astronaut Alan Bean set their lunar module "Intrepid" down on the moon's Ocean of Storms, the second of six Apollo landings.
Some five hours later, referring to Neil Armstrong's historic "one small step" statement four months earlier, Conrad said, "Whoopee! Man, that may have been a small one for Neil, but that's a long one for me." Conrad and Bean conducted two excursions on the moon, totaling almost eight hours, in which they set up experiment packages and collected 75 pounds of lunar rocks and soil. They also retrieved a camera and other gear from the nearby Surveyor 3 probe, which had landed on the moon in April 1967.
"The whole NASA family was extremely sad to learn of Pete Conrad's death," said NASA Administrator Daniel S. Goldin. "He was known at NASA for his irrepressible spirit, his sense of humor, his talents as a pilot and skill as an astronaut. He never lost interest in space travel, even after he left NASA. We will all miss him."
Conrad was selected in the second class of NASA astronauts in 1962 following a distinguished career as a Navy test pilot and instructor. Following his graduation from Princeton University in 1953, Conrad entered the Navy and attended test pilot school at Patuxent River, MD, where he was assigned as a Project Test Pilot.
After being selected as an astronaut, Conrad was assigned to fly on the Gemini 5 mission as the co-pilot to Gordon Cooper. In August 1965, Cooper and Conrad spent a record eight days in orbit, perfecting techniques for use in later lunar missions and proving astronauts could spend more than a week in space.
Conrad commanded the Gemini 11 mission in September 1966, in which he and co-pilot Richard Gordon established the fastest rendezvous and docking in history and a new altitude record of almost 850 miles above the Earth.
Bean and Gordon joined Conrad on the Apollo 12 mission in November 1969, forming an all-Navy crew. Conrad and Bean proved that pinpoint landings could be made on the lunar surface and conducted the first significant science operations during their 31 hours on the Ocean of Storms.
Conrad's final space flight occurred in 1973 as the Commander of the first crew to live and work on America's first space station, Skylab. Conrad, Paul Weitz and Joseph Kerwin were launched on a modified Saturn rocket on May 25, 1973. Eleven days earlier, the station had been launched and had lost a solar panel during its climb to orbit.
Conrad and his crewmates freed the remaining solar array on Skylab and set up a sunshade to help cool the station for the remainder of its lifetime on orbit. He also conducted a space walk with Weitz late in the mission to retrieve film packages and conduct other maintenance procedures. In all, Conrad and his crew spent 28 days in space, establishing another endurance record at the time.
Conrad left NASA and the Navy in 1974 to pursue a career in private industry. Conrad first served as Vice President of American Television and Communications Corporation, responsible for the operation and development of cable television systems. In 1976, Conrad became Vice President of McDonnell Douglas Corporation and later took on the responsibility for all commercial and military sales for the Douglas Aircraft Company.
With an eye toward the commercialization of space and the exploration of Mars, Conrad worked on the development of new spacecraft and space transportation systems with McDonnell Douglas and a California research firm called Universal Space Lines.
Among Conrad's numerous awards are the Congressional Space Medal of Honor, two NASA Distinguished Service Medals, two NASA Exceptional Service medals, two Navy Distinguished Service Medals and two Distinguished Flying Crosses. He was enshrined in the Aviation Hall of Fame in 1980.
Conrad is survived by his wife, three sons and seven grandchildren. A son preceded him in death.
Funeral arrangements are pending.
---
NASA Press Release: 99-79

Brian Dunbar
Headquarters, Washington, DC
(Phone: 202/358-1600)

---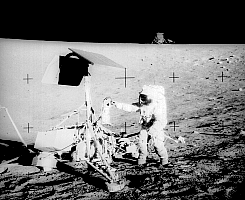 Pete Conrad standing next to the Surveyor 3 spacecraft
The images at the top of the page show Conrad just before he climbed down the ladder of Apollo 12 and demonstrating the shower on Skylab.
---
Apollo 12 Home Page

Moon Home Page

NSSDCA Planetary Home Page

---
Author and Curator:
Dr. David R. Williams, david.r.williams@nasa.gov, (301) 286-1258
NSSDCA, Mail Code 690.1, NASA/Goddard Space Flight Center, Greenbelt, MD 20771

---
NASA Official: Dr. Ed Grayzeck, edwin.j.grayzeck@nasa.gov
Last Updated: 14 July 1999, DRW