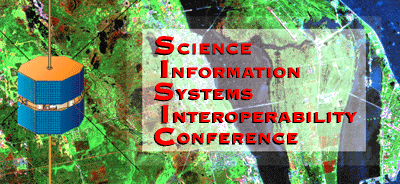 ---
Science Information Systems Interoperability Conference (SISIC)
University of Maryland, University College Conference Center
College Park, Maryland
November 6-9, 1995
---
GENERAL INFORMATION
THEME
Scientific Data Management and Analysis in a Distributed Network Environment
OBJECTIVES:
Provide a forum for the presentation of ideas, issues, and experiences concerning improving management of, access to, and use of network-distributed data and information.
Learn about and discuss emerging technologies and their future applications to distributed information systems evolution.
Allow participants the opportunity to demonstrate and test current and evolving information systems and network tools.
Suggest ways to improve interconnectivity, information gathering, and information sharing.
Bring together members of cooperative interoperability activities to share ideas and coordinate plans
Discuss issues related to doing scientific research in a distributed network environment.
PROGRAM COMMITTEE MEMBERS

Michael Botts             U. of Alabama/Huntsville
Joseph Bredekamp: Chair   NASA HQ
Peter Cornillon           U. of Rhode Island
Nahum Gershon             MITRE
Charles Goodrich          U. of Maryland
Allen Hittelman           NOAA/NGDC
Stephen Murray            Smiths. Astro. Obs.
Lola Olsen                NASA/GSFC
Deborah Puku              NASA/ARC
Edward Szuszczewicz       SAIC
James Thieman             NASA/GSFC
Raymond Walker            UCLA  

---
For general questions about the Science Information Systems Interoperability Conference contact:
Ms. Sandie Jones, sjones@pop200.gsfc.nasa.gov, (301) 220-1701, FAX (301) 220-1704
Jorge Scientific Corporation
7500 Greenway Center Drive
Suite 1130
Greenbelt, MD 20770


For program-related or technical questions about the Science Information Systems Interoperability Conference contact :
Dr. James Thieman, thieman@nssdca.gsfc.nasa.gov, (301)286-9790
National Space Science Data Center, Code 633.2
NASA/Goddard Space Flight Center, Greenbelt, MD 20771

---
NASA Official: J. R. Thieman, thieman@nssdca.gsfc.nasa.gov
Last Updated: 5 October 1995, JRT