AE-A
NSSDCA/COSPAR ID: 1963-009A
Description
Atmospheric Explorer A (AE-A, or Explorer 17) was a spin-stabilized sphere 0.95 m in diameter. The spacecraft was vacuum sealed in order to prevent contamination of the local atmosphere. Explorer 17 carried four pressure gauges for the measurement of total neutral particle density, two mass spectrometers for the measurement of certain neutral particle concentrations, and two electrostatic probes for ion concentration and electron temperature measurements. Battery power failed on July 10, 1963. Three of the four pressure gauges and both electrostatic probes operated normally. One spectrometer malfunctioned, and the other operated intermittently.
Alternate Names
00564
Atmosphere Explorer-A
Explorer 17
S 6
Facts in Brief
Launch Date: 1963-04-03
Launch Vehicle: Thor-Delta
Launch Site: Cape Canaveral, United States
Mass: 183.7 kg

Funding Agency
NASA-Office of Space Science Applications (United States)
Disciplines
Space Physics
Earth Science
Additional Information
Questions and comments about this spacecraft can be directed to: Dr. Dieter K. Bilitza
Personnel
| Name | Role | Original Affiliation | E-mail |
| --- | --- | --- | --- |
| Mr. Herman E. Lagow | General Contact | NASA Goddard Space Flight Center | |
| Mr. Jimmy E. Cooley | General Contact | NASA Goddard Space Flight Center | |
| Dr. Nelson W. Spencer | Project Manager | NASA Goddard Space Flight Center | |
| Dr. Robert F. Fellows | Program Scientist | NASA Headquarters | |
Other AE Data/Information at NSSDCA
AE-A
AE-B
AE-C
AE-D
AE-E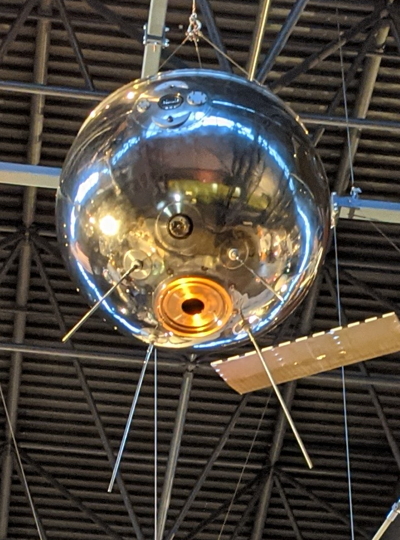 Replica of Explorer 17 (AE-A) at the Smithsonian Air and Space Udvar-Hazy Center.