Gemini 5 Evaluation Pod
NSSDCA/COSPAR ID: 1965-068C
Description
The Gemini 5 Rendezvous Evaluation Pod (REP) was ejected from the Gemini 5 spacecraft for simulated rendezvous maneuver experiments. The pod was launched with the Gemini 5 spacecraft on 21 August 1965 at 8:59:59 a.m. EST (13:59:59.518 UT). The REP was designed to be used as a rendezvous target for the Gemini 5 spacecraft after ejection. The REP contained an Agena rendezvous radar transponder, flashing beacons, batteries, and antenna. The REP was mounted on the back of the Gemini spacecraft. At 2 hours 25 minutes after launch, Gemini 5 was yawed 90 degrees to the right and the REP was ejected by explosive charges at a velocity of roughly 1.5 meters/sec. The plan called for Gemini 5 to manuever away from the REP, 10 km below and 22.5 km behind the REP, and then rendezvous with the REP for training and equipment evaluation. Due to fuel cell problems in the Gemini 5 spacecraft the REP exercise was abandoned about 4 hours into the mission and the REP was left in Earth orbit.
Alternate Names
01518
Gemini5EvaluationPod
Facts in Brief
Launch Date: 1965-08-21
Launch Vehicle: Titan II
Launch Site: Cape Canaveral, United States
Mass: 34.5 kg

Funding Agency
NASA-Office of Manned Space Flight (United States)
Discipline
Additional Information
Questions and comments about this spacecraft can be directed to: Dr. David R. Williams
Personnel
| Name | Role | Original Affiliation | E-mail |
| --- | --- | --- | --- |
| Dr. George E. Mueller | Program Manager | NASA Headquarters | info@kistleraero.com |
| Dr. William C. Schneider | Project Manager | NASA Headquarters | |
| Dr. Charles W. Mathews | Project Manager | NASA Headquarters | |
Selected References
Gilruth, R. R., and G. M. Low, Gemini midprogram conference including experimental results, NASA, SP-121, 1966. (Papers Presented at the Manned Spaceflight Center, Houston, Feb. 23-25, 1966)
Gemini summary conference, NASA, SP-138, Wash, DC, Feb. 1967.
Grimwood, J. M., et al., Project Gemini technology and operations - A chronology, NASA, NASA SP-4002, Wash., DC, 1969.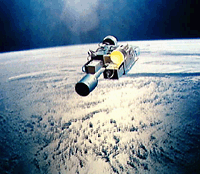 Artist's concept of the Gemini 5 Rendezvous Evaluation Pod after deployment.