Society of American Foresters Moon Tree
Bethesda, Maryland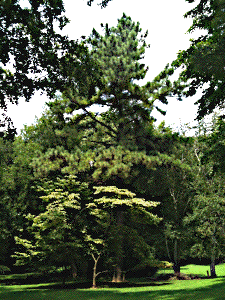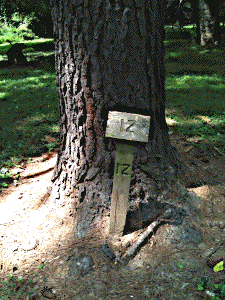 Loblolly pine (Pinus taeda) planted on 30 September 1975 at the Society of American Foresters in Bethesda, Maryland as part of a dedication of the new Gifford Pinchot Forestry Building, which was formerly the Grovesnor family summer home. The plaque is located inside the building, the tree itself is marked with a wooden sign with the number 12. The seeds for the loblolly pines were collected in Livingston Parish, Lousiana, and New Kent County, Virginia and delivered to Stuart Roosa to take with him on Apollo 14. Unfortunately the two batches were mixed together after the flight so it is not known which location this particular tree came from. The seedlings were grown in The U.S. Forest Service's Southern Station in Gulfport, Mississippi. The plaque reads: Moon Tree This Loblolly Pine tree is distinctive.
It was grown from one of a number of seeds
taken aboard Apollo 14 by Command Module
Pilot Stuart Roosa on NASA's historic
February 1971 Moon flight. Upon its return
to Earth, the seed was nurtured by the
U.S. Forest Service's Southern Forest
Experiment Station in Gulfport, Mississippi.
The tree was presented as a gift to the
Society of American Foresters on its
September 30, 1975. Colonel Roosa was formerly a Forest
Service smokejumper before joining the
Air Force. He carried the seed and those
of other tree species on his lunar voyage
to symbolize the major role that forests
have played in the development of America
and the critical role forests will play
in the nation's future.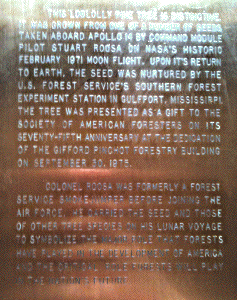 Photographs courtesy of Erica Botkin.
---
History of the Loblolly Pine Moon Trees
Moon Tree Home Page
---
Author/Curator:
Dr. David R. Williams, dave.williams@nasa.gov
NSSDCA, Mail Code 690.1
NASA Goddard Space Flight Center
Greenbelt, MD 20771
+1-301-286-1258


---
NASA Official: Dave Williams, david.r.williams@nasa.gov
Last Updated: 15 April 2021, DRW