Patrick Elementary School Moon Tree
Hampton, Virginia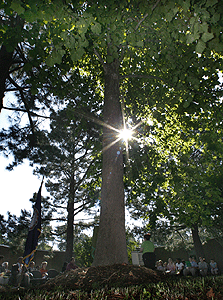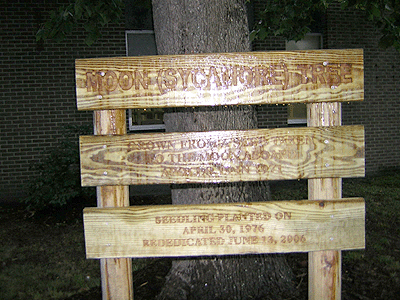 Sycamore (Platanus occidentalis) planted at Albert W. Patrick III Elementary School (formerly Booker Elementary) in Hampton Virginia on 30 April 1976. The tree was given to the school as the result of a poetry contest, won by sixth grader Marjorie White for her poem entitled "A Tree Lives". A rededication ceremony was held on 13 June 2006 and a sign was put up next to the tree (see pictures). The sign says "Moon (Sycamore) Tree - Grown from seeds taken to the Moon aboard Apollo 14 in 1971 - Seedling planted on April 30, 1976 Rededicated June 13, 2006". For more on the ceremony, see the 14 June 2006 Daily Press Article.


Top left photograph courtesy of Buddy Norris/Daily Press.
Other photographs courtesy of Barbara Jones and Mrs. Maravillas.
---
Article on the Moon Tree Rededication Ceremony - Daily Press (Courtesy Wayback Machine)

Moon Tree Home Page
---
Author/Curator:
Dr. David R. Williams, dave.williams@nasa.gov
NSSDCA, Mail Code 690.1
NASA Goddard Space Flight Center
Greenbelt, MD 20771
+1-301-286-1258


---
NASA Official: Dave Williams, david.r.williams@nasa.gov
Last Updated: 18 March 2022, DRW