Camp Iti Kana Tree
Wiggins, Mississippi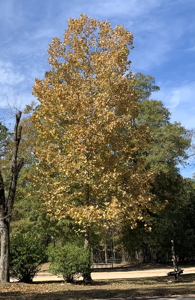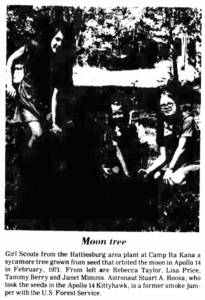 Sycamore (Platanus occidentalis) planted at Camp Iti Kana (Camp Ita Kana in some references), a Girl Scout camp near Wiggins, Mississippi. It is located near the camp flagpole.
The picture of the tree above is from 2019. The article above is from the 2 May 1974 Hattiesburg American (all rights reserved). That makes this the earliest known public Moon Tree planting.
Tree image courtesy of Chiho Sullivan.
Article image and information courtesy of Nancy Fedor White.
Article credit Hattiesburg American.

---
History of the Sycamore Moon Trees
Moon Tree Home Page
---
Author/Curator:
Dr. David R. Williams, dave.williams@nasa.gov
NSSDCA, Mail Code 690.1
NASA Goddard Space Flight Center
Greenbelt, MD 20771
+1-301-286-1258


---
NASA Official: Dave Williams, david.r.williams@nasa.gov
Last Updated: 19 July 2023, DRW