Smokey Bear Park Moon Tree
Capitan, New Mexico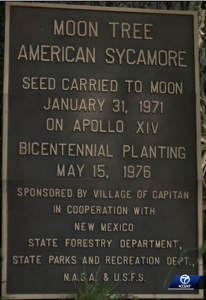 A sycamore (Platanus occidentalis) Moon Tree was planted at Smokey Bear State Park in Capitan, New Mexico on Saturday, 15 May 1976. Unfortunately, the tree has died. The planting was part of the ceremony marking the opening of the park, the dedication started at 11:00 a.m. and Jim Freeman of the New Mexico Department of Forestry was scheduled to present the Moon Tree. U.S. Representative Harold L. Runnels and Lt. Governor Robert E. Ferguson were also expected to speak. There is a plaque (above) that was discovered in storage at the park that reads:

MOON TREE
AMERICAN SYCAMORE
SEED CARRIED TO MOON
JANUARY 31, 1971
ON APOLLO XIV

BICENTENNIAL PLANTING
MAY 15, 1976
SPONSORED BY VILLAGE OF CAPITAN
IN COOPERATION WITH
NEW MEXICO
STATE FORESTRY DEPARTMENT,
STATE PARKS AND RECREATION DEPT.,
N.A.S.A. & U.S.F.S.

New Mexico apparently received five Moon Trees in 1976, two Douglas firs and three sycamores. A 28-inch Douglas fir seedling was planted April 7 in the Civic Plaza in Albuquerque. The other Douglas fir, of about the same size, was planted on the state capitol grounds on 22 July. A sycamore was planted in Smokey Bear State Park on May 15, 1976. Another sycamore was planted at the International Space Hall of Fame in Alamogordo on October 5. The location of the other sycamore is in Silver City, New Mexico, planted August 15 in Gough Park. The sycamores in Alamogordo and Smokey Bear State Park are known to have died, as has the Douglas fir in Albuquerque. The status of the other two trees in not definitively known. For more information, see the individual tree pages and Moon Trees in New Mexico from the New Mexico State Records Center and Archive.
Plaque image credit KOAT-7 News Smokey Bear to Celebrate 68th Birthday at Mission Control - NASA Press Release, 6 August 2012
Are New Mexico's moon trees still alive? - KOAT 7 News, 19 July 2019
New Mexico's 'moon trees' planted after Apollo 14 are lost - AP News, 23 July 2019
Moon Trees in New Mexico - New Mexico State Records Center and Archives
Other New Mexico Moon Trees Alamogordo - International Space Hall of Fame
Albuquerque - Civic Center
Santa Fe - Capitol Building
Silver City - Gough Park

---
Moon Tree Home Page
---
Author/Curator:
Dr. David R. Williams, dave.williams@nasa.gov
NSSDCA, Mail Code 690.1
NASA Goddard Space Flight Center
Greenbelt, MD 20771
+1-301-286-1258


---
NASA Official: Dave Williams, david.r.williams@nasa.gov
Last Updated: 24 July 2023, DRW