Dillsburg Elementary School Moon Tree
Dillsburg, Pennsylvania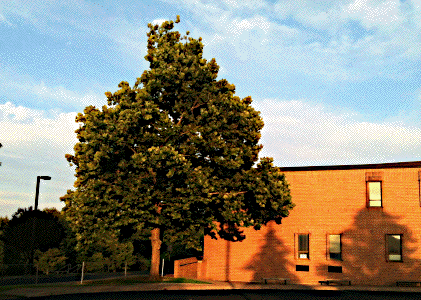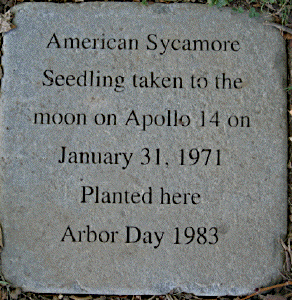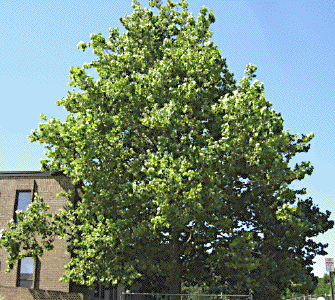 Sycamore (Platanus occidentalis), planted on Arbor Day, April 29, 1983, at Dillsburg Elementary School. The tree was one of the original batch of sycamores sent to the Pennsylvania Bureau of Forestry. The other seedlings were given out for bicentennial celebrations across the state, one was kept and cared for by Forest Bureau geneticist Jack Winieski, who put better roots on the cutting. In 1983 he coordinated the planting of the tree with Larry Rhone, the Dillsburg Elementary School principal, and Barbara Clawson's fifth grade class. The celebration took place on Arbor Day, April 29, 1983 (see newspaper clipping and picture below).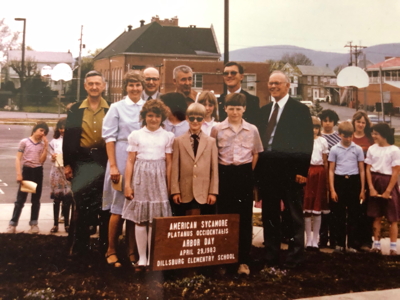 Article on the planting ceremony
(4 May 1983 Gettysburg Times) The picture above right shows the Dillsburg students and (l to r) Hal Wertz (author), Barbara Clawson, Frank King (Superintendent of Schools), R. Trostle (School Board member), Jack Winieski, and Larry Rhone.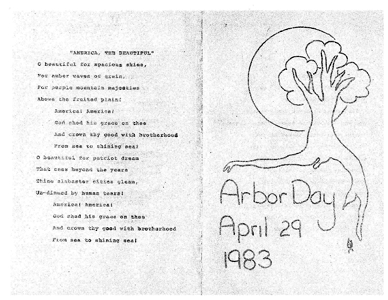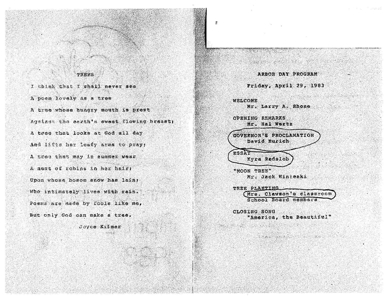 Program from the 1983 Arbor Day Moon Tree Planting Ceremony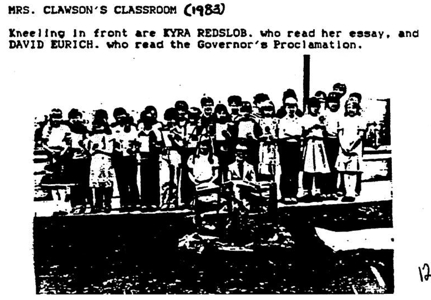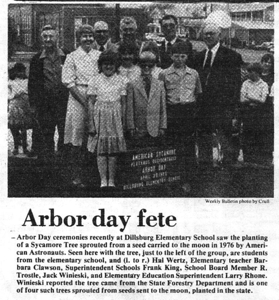 Mrs. Clawson's 5th grade class and article on the 1983 planting from the Weekly Bulletin. "The 1983 Moon Tree Revisited" program was held at the school in 1990, featuring students and faculty involved in the original Moon Tree planting and the reading of a proclamation from the Governor's office.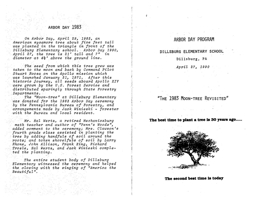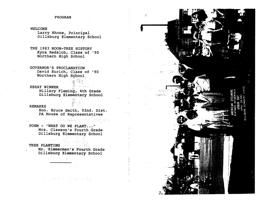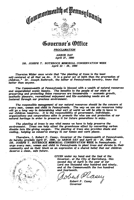 1990 Moon Tree Revisited program and Governor's proclamation. A celebration of the anniversary of the planting is planned for Arbor Day, April 30th, 2021. Tree located at 40 deg 6.434 min N, 77 deg 1.964 min W Two upper right and lower left photographs courtesy of Tyler Gillmen.
Upper left and two lower right photographs courtesy of Erica Botkin.
Student pictures and programs courtesy Dillsburg Elementary School.
Newspaper clippings courtesy of The Gettysburg Times and Weekly Bulletin.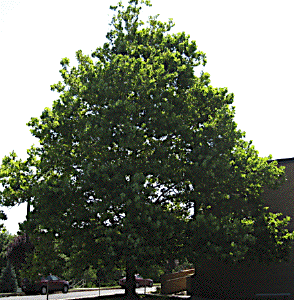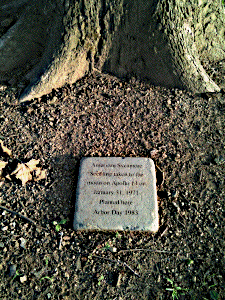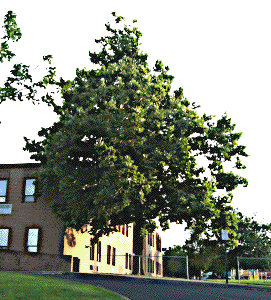 ---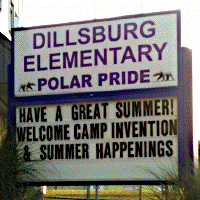 Arbor Day Highlights York County's Moon Tree - ABC 27 Harrisburg
Along the Way: Dillsburg's Moon Tree - Pennsylvania Rambler (8 July 2020)
Dillsburg Elementary School
History of the Sycamore Moon Trees
Moon Tree Home Page

---
Author/Curator:
Dr. David R. Williams, dave.williams@nasa.gov
NSSDCA, Mail Code 690.1
NASA Goddard Space Flight Center
Greenbelt, MD 20771
+1-301-286-1258


---
NASA Official: Dave Williams, david.r.williams@nasa.gov
Last Updated: 3 May 2021, DRW