Goddard Space Flight Center Moon Tree
Greenbelt, Maryland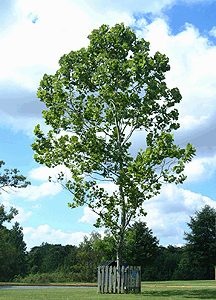 In front of the Visitor's Center at Goddard Space Flight Center in Greenbelt, Maryland stands a sycamore (Platanus occidentalis) Moon Tree. The tree was planted on June 9, 1977, shortly after the Visitor's Center opened. Now about 35 feet high with a girth of about 18 inches, it is located towards the left looking from the parking lot, surrounded by a small fence with a blue sign. The Visitor's Center can be reached from Soil Conservation Road, east of the main Goddard entrance. A higher resolution version (900 K) of the picture of the Goddard tree is available.
The tree is located at 38 deg 59.558 min N; 76 deg 50.791 min W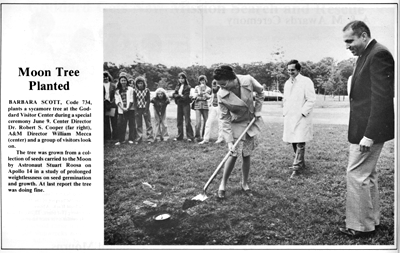 Picture and caption from the September 1977 issue of Goddard News.

Pictures at top of page courtesy Jay Friedlander.
---
Goddard News Article (August 2002)

Moon Tree Home Page
---
Author/Curator:
Dr. David R. Williams, dave.williams@nasa.gov
NSSDCA, Mail Code 690.1
NASA Goddard Space Flight Center
Greenbelt, MD 20771
+1-301-286-1258


---
NASA Official: Dr. David R. Williams, david.r.williams@nasa.gov
Last Updated: 30 October 2015, DRW