Holliston Moon Tree
Holliston, Massachusetts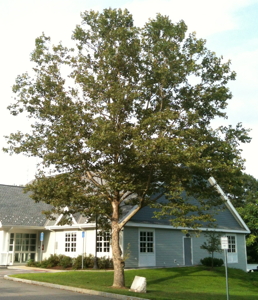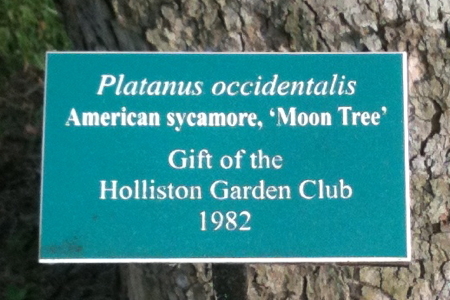 An American sycamore (Platanus occidentalis) Moon Tree grows in Holliston, Massachusetts by the police station. In April, 1976, instead of the expected seedling, a root clipping was sent, but it died in transit. Another was sent, a 4-inch root clipping, but it was not planted at that time. It was sent to Weston Nurseries in nearby Hopkinton to be grown to a larger size before planting.

A ceremony was held using a "stand-in" tree. It was planted on the police station grounds as it was thought that would be the safest place for the tree, but it was stolen 6 days later by "some unidentified teenagers". The real tree was planted approximately six years later after it had grown to a more secure size. Originally it was enclosed by a chain link fence, but now it is open with a small sign next to it. The large stone marker is a tribute to a former policeman. Picture at upper left shows the tree in 2012.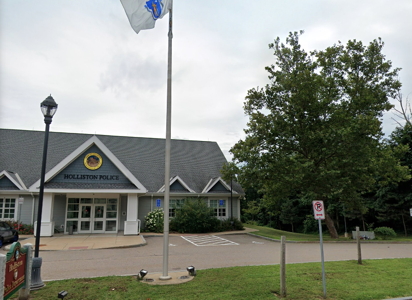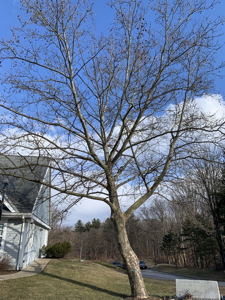 Police station with Moon Tree at right (from Google Maps) and a picture of the tree in spring, 2020 Tree located at 42 deg 12.434 min N, 71 deg 25.645 min W Images at top courtesy Erica Botkin
Lower right tree image courtesy Nathan Rosen
---
The article and image below are from the 26 July 1998 Middlesex News.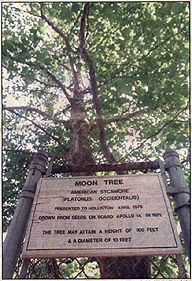 From the Moon to Holliston
"Moon Tree" sprouted on Shepard's last space mission
By Kerri Hosmer
News Correspondent

HOLLISTON - A piece of legend still lives on. Astronaut Alan Shepard may
have died last Tuesday night, but an American sycamore tree growing beside
the police station is a living reminder of his life and historic space
missions.

"It was a big deal at that time," said Town Clerk Nancy Norris. In April
1976, the town received a 4-inch root clipping grown from seeds taken into
space on Apollo 14 in 1971. This was the mission where Shepard and Edgar
Mitchell made their historic walk on the moon.

The third astronaut on the mission, Stuart Roosa, orbited above Shepard and
Mitchell in their command module called "Kitty Hawk". Packed in small
containers within Roosa's space pack were hundreds of tree seeds. It was
part of a joint NASA and USFS project.

Some of the seeds were planted as the control in the experiment, but most
were given away in honor of the US's bicentennial celebration.

Every state was supposed to receive two trees, said Everett Reed, a local
historian for the town of Pembroke. Holliston was chosen as one site, and
Pembroke was chosen as the second.

Reed said his town's moon tree was planted at a historical society's
building in North Pembroke and they had "quite a celebration" for it.
Unfortunately, he said Pembroke's moon tree died about a year-and-a-half
after it was planted.

Upon hearing that Holliston's moon tree was still alive and well, Reed said
he might call the town to get a clipping from the tree to grow another one
in Pembroke.

But even though today Holliston's moon tree stands proud and strong, things
weren't so easy when the town tried to plant the tree.

NASA sent a root clipping, instead of a seedling like the town expected, and
after its five-day journey to arrive, the root also died. NASA quickly sent
another root, but now the town couldn't plant it.

Instead, a stand-in tree was planted, while the "real" one was sent to grow
at Weston Nurseries in Hopkinton. Most people never knew - or forgot - that
the tree was a fake until it was replanted six years later.

"We went through a lot of rigmarole," Norris said about getting the moon tree.

She said a lot of people attended the ceremony to plant the tree, not only
because it was the town's anniversary, but also because everyone was proud
to be the recipients of this special tree.

The police station was chosen as the site to plant the space seeds because
it was the safest place, Norris said. But according to a Middlesex News
article at that time, the fake tree was stolen six days after it was planted
by some unidentified teenagers.

Now a small chain-link fence encloses the real one with a small plaque
heralding it as the "Moon Tree".

Safety Officer Norman Gillen said everyone used to come and look at the tree
and ask questions when it was originally planted. He said they always used
to look out the window and see people around it.


From the Middlesex News, Sunday, July 26, 1998
Copyrighted Article Reproduced Courtesy of the
MetroWest Daily News
---
History of the Sycamore Moon Trees
Moon Tree Home Page
---
Author/Curator:
Dr. David R. Williams, dave.williams@nasa.gov
NSSDCA, Mail Code 690.1
NASA Goddard Space Flight Center
Greenbelt, MD 20771
+1-301-286-1258


---
NASA Official: Dave Williams, david.r.williams@nasa.gov
Last Updated: 14 May 2021, DRW