The Illinois Valley Moon Tree Run - Siskiyou Smokejumper Base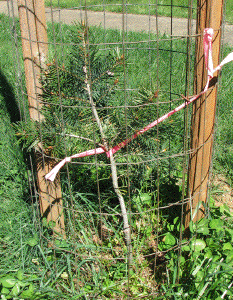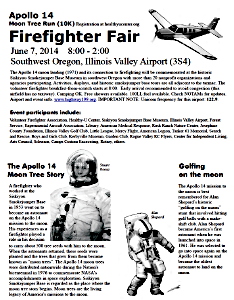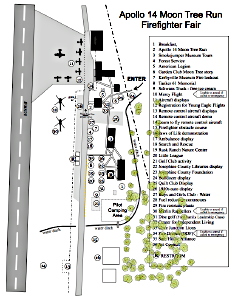 A Douglas fir Moon Tree was planted circa 1976 at the Siskiyou Smokejumper Base in the Illinois Valley, south of Cave Junction, Oregon. Stuart Roosa was based here when he worked as a smokejumper before becoming an astronaut. The base was closed in 1982 and the original tree died. A second tree was planted in 1985 but did not survive.
A cutting from the Douglas fir Moon Tree at the Roseburg Veteran's Medical Center was successfully grafted onto a Douglas fir root stock. This tree was planted at the site of the original tree at the smokejumpers base on 6 October 2012 (the day of the 2012 Moon Tree Run) and is shown in the image above.
The Moon Tree Run was started in 1979, part of the race follows a course the smokejumpers used in their training. The original series of Moon Tree Runs ended in 1999, but have now been revived, as seen in the brochures above. The smokejumpers barracks have been restored and turned into a museum.
History of the original Moon Tree Run (written 1999)
The Illinois Valley's (Oregon) annual Moon Tree Run began twenty years ago as little more than a gleam in Dale O'Keefe's eye. O'Keefe, postmaster in O'Brien, Oregon at the time, enjoyed running and decided the valley needed an event of its own. In 1979 he organized the run at the then fully active Siskiyou Smoke Jumpers Base just south of Cave Junction, Or. Part of the run, even today, follows the course used by the smoke jumpers in their daily training, and is mostly off the road, with a crossing of Rough and Ready Creek. The race was named for a Douglas fir seedling donated to the smoke jumper's base by astronaut Col. Stuart Roosa. The tree was grown from one of the several seeds carried around the moon in 1971 by Col. Roosa who was a former smoke jumper once based in the Illinois Valley. The Forest Service closed the base in 1982 and the original Moon Tree was an unintended casualty. It and a second Moon Tree, planted in 1985 both died. The trees, however, live on in memory and in the race, sponsored for the first eleven years by the Chamber of Commerce and since 1991 by the Illinois Valley Volunteer Firefighters Association. The last Moon Tree Run was in 1999.

The Moon Tree Race home page was at http://web.archive.org/web/20011006040902/www.webtrail.com/moontree/index.html

(archived courtesy of the Internet Archive Wayback Machine - Oct 06, 2001)

Pictures, brochures, and information on current Moon Tree courtesy Kathy Lombardo.
Description of Moon Tree Run sent by Jerry Schaeffer.
---
Moon Tree Run Home Page - Highway 199

Moon Tree and the Siskiyou base - Highway 199

Moon Tree Home Page
---
Author/Curator:
Dr. David R. Williams, dave.williams@nasa.gov
NSSDCA, Mail Code 690.1
NASA Goddard Space Flight Center
Greenbelt, MD 20771
+1-301-286-1258


---
NASA Official: Dr. David R. Williams, david.r.williams@nasa.gov
Last Updated: 05 June 2014, DRW