U.S. Veteran's Medical Center Moon Tree
Roseburg, Oregon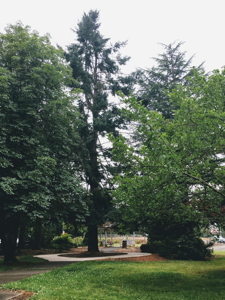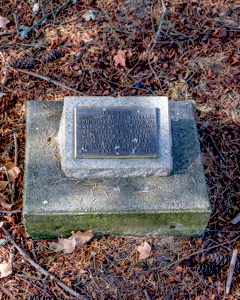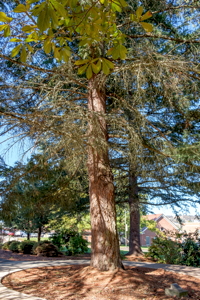 This Douglas fir (Pseudotsuga menziesii) was planted on 3 May 1976 on the grounds of the U.S. Veterans Medical Center in Roseburg, Oregon by State Forester J. E. Schroeder and Director J. H. Ferry. The photographs above were taken in 2019 (left) and 2018 (right), photos at bottom taken in 2005.
The plaque reads:

This tree dedicated by the Veterans
Administration in 1976 to
America's Medal of Honor recipients who helped
make this bicentennial observance possible
"By gallantry above and beyond the call of duty"

Cuttings were taken from the tree and successfully grafted onto a Douglas fir root stock. One of these seedlings was taken to the Siskiyou Smokejumpers Base in Illinois Valley, Oregon and planted there is a ceremony in 2012. This was the base where Stuart Roosa trained and worked as a smokejumper in 1953. It is home to the Moon Tree Run and to one of the original Moon Trees that has since died. The seedlings from the Roseburg tree are shown below. The picture at right shows the Roseburg tree in 2019 showing damage sustained, probably from heavy snow.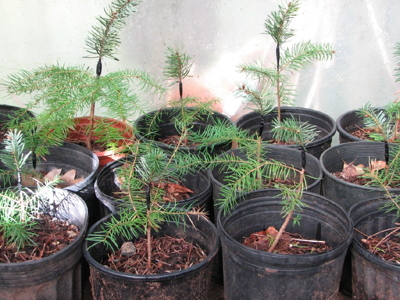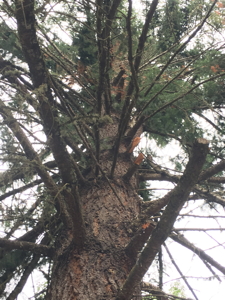 The seeds for the Douglas firs that were taken on Apollo 14 were collected in Benton County, Oregon, and El Dorado County, California and sent to the U.S. Forest Service Institute of Forest Genetics (IFG) western station in Placerville, California. Unfortunately the seeds were mixed after the flight, so it is impossible to tell for any of the Douglas firs which lot they came from. A total of eight Douglas firs were allocated to Oregon by the U.S. Forest Service. Six were shipped on 14 April 1976, including this one, which was planted less than three weeks later. More detail on the history of the Douglas fir Moon Trees is available. (The device held by the tree in the bottom photo is a GPS unit.) The tree is located at 43 deg 13.565 min N; 123 deg 22.106 min W Photograph at top left and middle right courtesy Pamela Bordenave
Photographs at top center and top right, courtesy of Beth Gordon
Seedling photograph courtesy Kathy Lombardo
Photographs at bottom courtesy of Glen and Martha Jones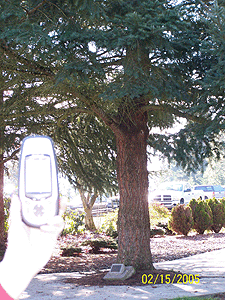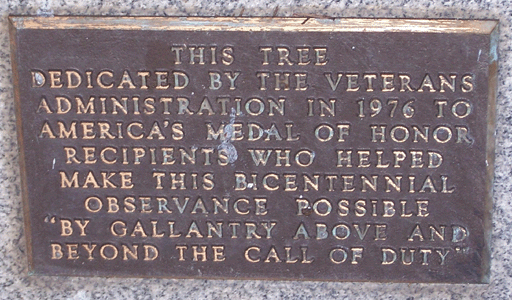 ---
Cloning the Moon Tree - Kathy Lombardo

History of the Moon Tree Douglas Firs
Moon Tree Home Page
---
Author/Curator:
Dr. David R. Williams, dave.williams@nasa.gov
NSSDCA, Mail Code 690.1
NASA Goddard Space Flight Center
Greenbelt, MD 20771
+1-301-286-1258


---
NASA Official: Dave Williams, david.r.williams@nasa.gov
Last Updated: 13 April 2021, DRW