University of Arizona Moon Tree
Tucson, Arizona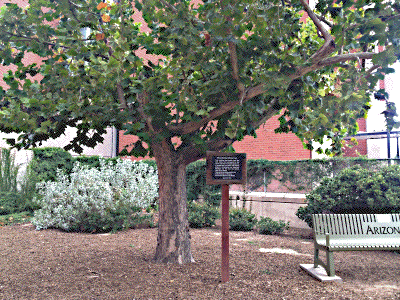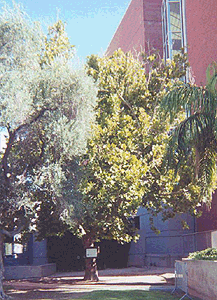 The University of Arizona tree is a sycamore (Platanus occidentalis) planted on 30 April 1976. The tree is located between the Kuiper Space Sciences Building and the Flandrau Science Center and Planetarium on the University of Arizona campus in Tucson, Arizona. The original blue sign (pictured above) has been replaced with a new sign with the same wording.
On 30 October 2015, a Moon Tree Celebration was held in the Kuiper Building, featuring a keynote speech by Stuart Roosa's son, Jack.
The tree is at 32 deg 13.941 min N, 110 deg 56.845 min W.
Top left photograph courtesy Arizona Public Media, other photographs courtesy Jim Scotti
---
The Life of the 'Moon Tree' on Campus - LPL In The Spotlight (10/28/15)


Kuiper Space Sciences Building


High resolution (7 MB) version of top left image.

---
Author/Curator:
Dr. David R. Williams, dave.williams@nasa.gov
NSSDCA, Mail Code 690.1
NASA Goddard Space Flight Center
Greenbelt, MD 20771
+1-301-286-1258


---
NASA Official: Dr. David R. Williams, david.r.williams@nasa.gov
Last Updated: 03 November 2015, DRW