Arnold Air Force Base Moon Tree
Tullahoma, Tennessee
A loblolly pine (Pinus taeda) was planted at the Arnold Engineering Development
Center at Arnold Air Force Base near Tullahoma, Tennessee in April 1976. The tree
died within the first two years, but the commemorative plaque is still there.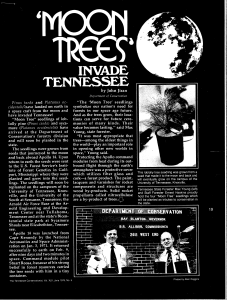 Moon Trees Invade Tennessee
The Tennessee Conservationist, June 1976
Information courtesy of David M. Hiebert, AEDC Historian.
---
Message from the AEDC Historian
Moon Trees #24 - Tennessee Urban Forestry Council (2013)
History of the Loblolly Pine Moon Trees
Moon Tree Home Page

---
Author/Curator:
Dr. David R. Williams, dave.williams@nasa.gov
NSSDCA, Mail Code 690.1
NASA Goddard Space Flight Center
Greenbelt, MD 20771
+1-301-286-1258


---
NASA Official: Dave Williams, david.r.williams@nasa.gov
Last Updated: 15 December 2022, DRW