University of Florida Moon Tree
Gainesville, Florida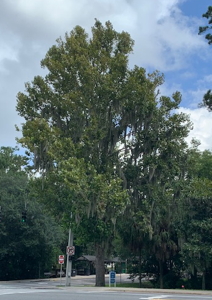 A sycamore (Platanus occidentalis), along with two loblolly pines, were given to the University of Florida School of Forestry in 1976 and planted near the forestry building circa 1977. The loblolly pines were girdled by the groundskeepers' string-trimmers and died, the sycamore survived and is now over 70 feet tall and 2 feet in diameter. Initially there were no signs put up identifying them because the superintendent of grounds was concerned the trees might be stolen or vandalized.

The tree is located at the corner of Museum Road and McCarty Drive in the Newins-Ziegler sinkhole area in the northeast campus. Although a plaque or sign marking the tree is mentioned in some reports, none was found there in 2019.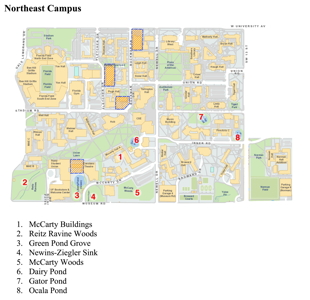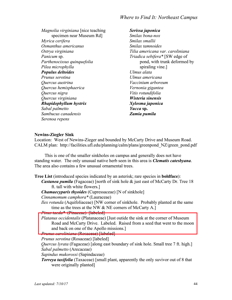 Map of location of Moon Tree (4) and page describing the tree.
from the University of Florida Campus Plant Guide
Information and images courtesy of Chiho Sullivan.

---
NASA seeks public help finding rare 'moon trees' - Lake City Reporter, 21 August 2002
Tracing the history of UF's moon tree - Gainesville Sun, 3 October 2005
University of Florida Campus Plant Guide - 2017
Florida's "Moon Trees" - Florida Department of Agriculture and Consumer Services

Moon Tree Home Page
---
Author/Curator:
Dr. David R. Williams, dave.williams@nasa.gov
NSSDCA, Mail Code 690.1
NASA Goddard Space Flight Center
Greenbelt, MD 20771
+1-301-286-1258


---
NASA Official: Dave Williams, david.r.williams@nasa.gov
Last Updated: 12 March 2021, DRW