Old Washington Historic State Park Moon Tree
Washington, Arkansas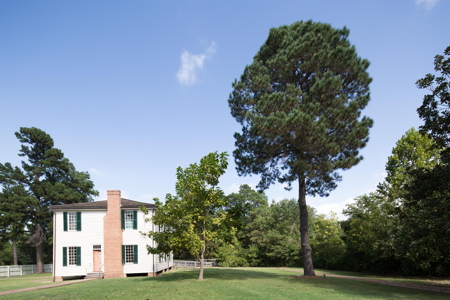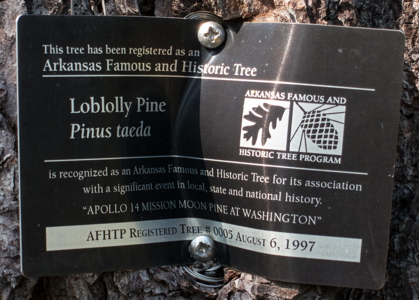 Loblolly pine (Pinus Taeda) planted 15 March 1976 at Old Washington Historic State Park in Washington, Arkansas, located behind the 1836 courthouse and Confederate Capitol of Arkansas. It is listed on the old sign (below) as a 'Moon Pine Tree', Arkansas Famous and Historical Tree Program Registered Tree #0005, August 6, 1997. The sign was obviously replaced with a newer one (above), describing the tree as "Apollo 14 Mission Moon Pine at Washington". The upper photographs were taken in 2013, the lower photographs circa 2005.

Tree located at 33 deg 46.545 min N, 93 deg 40.835 min W
Upper photographs courtesy of T. Byron Miller.
Lower photographs courtesy of Dallas and JoAnn Coonrod - geocachers 'Kunta and Ono'.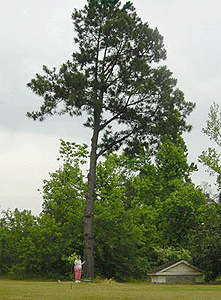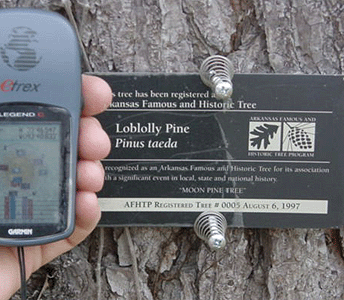 ---
Old Washington Historic State Park
Moon Tree Home Page
---
Author/Curator:
Dr. David R. Williams, dave.williams@nasa.gov
NSSDCA, Mail Code 690.1
NASA Goddard Space Flight Center
Greenbelt, MD 20771
+1-301-286-1258


---
NASA Official: Dave Williams, david.r.williams@nasa.gov
Last Updated: 14 July 2023, DRW